The Sierra de las Nieves appears as a unified geographical area in the form of a natural paradise situated in the central part of the province of Malaga, forming part of mountainous fringe that delimits the nearby western Costa del Sol, with the average distance from the district of the Sierra to the provincial capital being 58 kilometres.
The district of the Sierra de las Nieves is bounded to the south by the Costa del Sol Occidental, as mentioned above, to the east with the Guadalhorce Valley, to the west by the Sierra of Ronda and to the north by the district of Guadalteba.

The villages situated within, form a rural, mountain community in which man still lives in perfect equilibrium with nature, this equilibrium existing as an ecological and cultural model worthy of imitation.

Like a human belt, and nestling in the Sierra de las Nieves, are the nine villages that still today conserve the features inherited from the melting-pot of cultures that have left their mark on this territory. These villages, namely, Alozaina, Casarabonela, El Burgo, Guaro, Istán, Monda, Ojén, Tolox and Yunquera, are united by the orography, in places capricious, of the Sierra. They all present physiographical and cultural features that are common to all of them, which have moulded them into a district with its own identity within the province of Malaga.
Click to enlarge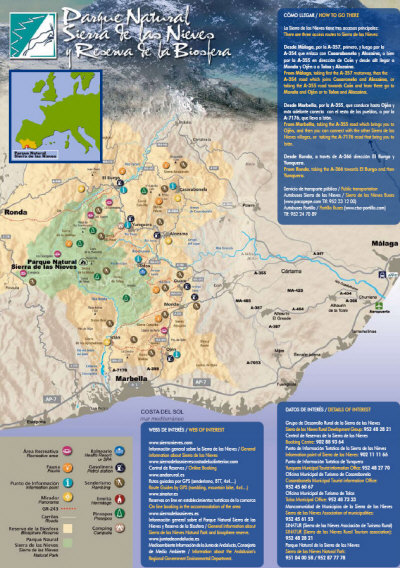 Click to enlarge
There are three main points of access to the Sierra de las Nieves
From Málaga, first by the A-357, and then taking the A-354 which lead to Casarabonela and Alozaina or else by the A-337 in the direction of Coín and from there to Monda taking the A-355 or to Tolox and Alozaina by the A-366.

From Marbella, by the A-355, which leads to Ojén and then connects with the rest of the villages, or by the A-7176, leading to Istán.

From Ronda, taking the A-366 in the direction of El Burgo and Yunquera.

Also, the International Airport Pablo Ruiz Picasso (Málaga) and the AVE railway station María Zambrano are only 40 minutes from two of the villages at the entrance to the Sierra de las Nieves, Monda and Casarabonela.

Whether by one or other point of entry, the visitor will enjoy the approach to these mountain lands, where all the roads pass through countryside made spectacular by its natural characteristics and its orography.