THE LIME-WORKERS
One of the oldest artisanal occupations carried out in the Sierra de las Nieves was that of lime-worker, Calero, now disappeared. A calero is a person who extracts limestone and cement using a limekiln.

The Sierra de las Nieves region has strata of sandy configuration and a good number of limestone outcrops. Traditionally, they have been used for the extraction of stone for the production of lime. The lime stone is of whitish colour with an anhydrous base (calcium oxide CO3).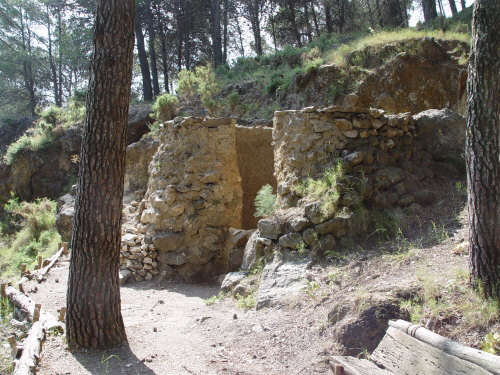 The lime is obtained by burning the limestone in kilns built on cylindrical pits in the ground where the temperature reaches close to 1000ºC, provoking the following reaction:
Limestone + heat = carbonic gas + lime

Ca CO3 + heat = Co2 + CaO

Calcium carbonate + water: calcium carbonate + heat
This process produces the rapid disintegration of the stone, which is diluted in water. Subsequently, lime powder can be obtained by leaving the paste to dry.

Characteristics of the kiln:

Depth: 3 or 4 metres

Diameter: 2 or 3 metres

Interior capacity: 3 or 4 m3.
Association for the Rural Development of Sierra de las Nieves

Edificio Sierra de las Nieves, Paraje de Río Grande-Las Millanas, s/n - 29109- Tolox (Málaga) - Phone: 952 48 28 21 - Fax: 952 48 29 44

Email: agdr@sierranieves.com