ESPARTO GRASS, PALM AND PITA GRASS CRAFTS
Vegetal fibres have been worked in many places for the manufacture of various utensils but such craftsmanship has only been preserved in some of them. Fortunately, there are still artisans in our region who use techniques similar to those used in textile manufacture, working esparto grass, palm and pita.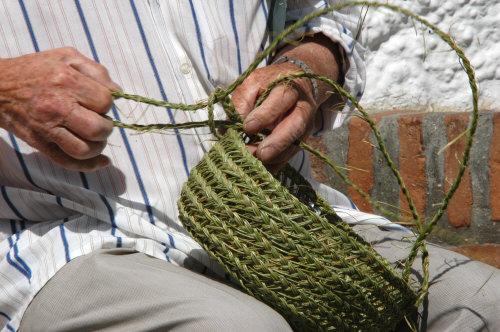 The working of esparto grass (Stipa tenacissima) starts with its harvesting from July to September. It can be worked when green, or dried and pounded. Green esparto is worked directly and from it are obtained small pieces of basketwork, pleitas (strips of esparto or palm plaited into several strands which, when sewn together with others, are used to make mats, hats, cigarette cases and other items) and smaller pleitas for the manufacture of cheeses, etc. Customarily, sheafs of esparto are stored for working during the rest of the year. Being dry fibre, it is necessary to boil it and soak it for two weeks so that it is flexible enough to plait. Pounding of the esparto is done with majas (wooden maces), beating the blades of esparto against a stone which acts as a base. Once the esparto is sufficiently pliable, the strands are plaited, ie, the pleita is made. The pleitas are then sewed together until the desired article is created, for example, baskets, mats, panniers, etc.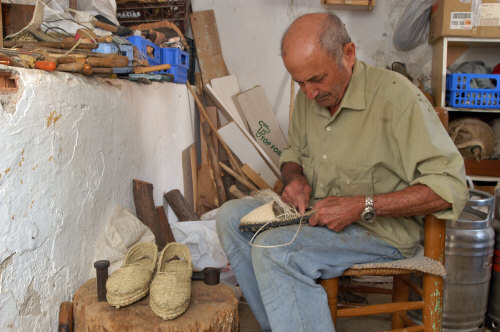 The leaf of the palm tree (chamaerops humilis) is another of the fibres used by the inhabitants of the Sierra de las Nieves. It is collected from June to August and placed in the sun for a month until dry. When ready, it is bleached by placing it in a drum next to a container with burning sulphur inside. Once prepared, the leaves are cut into small strips from which are obtained the strands used to make the pleitas. The manufacturing process continues in much the same way as with esparto with one difference: being a lighter material it can be used to make other objects like hats, fans for the fire, cigarette cases, baskets for figs and raisins, etc.

The pita (agave americana) is a plant native to Mexico which has acclimatised perfectly to the Sierra de las Nieves. From its large and meaty leaves are extracted threads which are used to make twine, rope, slings and other utensils of everyday use in the Sierra. In Casarabonela, another use has been found for the plant: the production of zambombas (friction drums) using the shoot (the herbaceous stem without leaves that holds the flowers and fruit of the plant).